BIOGRAPHY(English)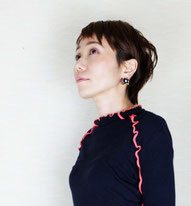 Chikuma Kimiko 
1976 Born in Fukuoka, Japan
Graduation of Graduate school of Kyushu Sangyo University Fine Arts Doctoral Program in Art Expression
【Award】
 Accepted to ART AWARD NEXT Ⅲ、Accepted to 8th TAGBOAT AWARD etc.
【Solo Exhibition】
 GALLERY b.TOKYO(Tokyo/'15)
ART SPACE RASHINBAN(Tokyo/'16~19) etc.
【Art Fair 】
 Art in Park Hotel Tokyo 2019(Sansiao Gallery/Park Hotel Tokyo /'19)
 ART NAGOYA 2018(SYSTEMA GALLERY/WESTIN NAGOYA CASTLE/'18)
 ASIA HOTEL ART FAIR SEOUL 2017(kinosho kikaku/Grand Intercontinental Seoul Parnas Hotel/Korea)
 Young Art Taipei 2017 (kinosho kikaku/Sheraton Grand Taipei Hotel/taiwan) 
 【Group Exhibition】
ICON (MASATAKA CONTEMPORARY/Tokyo /'19)
FLIP SIDE(Sansiao Gallery Hong Kong/'18)
Collaboration Project with RISE GALLERY Vol.2(RISE GALLERY/Tokyo/'18)
1SQM EXHIBITION  (SYSTEMA GALLERY/Osaka/'18)
A SIGN OF EMOTION(MASATAKA CONTEMPORARY/Tokyo/'18)
Group Show α #1           (Art★Aiga/Tokyo/'17)           
Aiga★Works            (Art★Aiga/Tokyo/'17) 
Aiga★Works2016-2017 Part1~Part2(Art★Aiga/Tokyo/'17)etc.
【Collection】
Tagawa Museum of Art
Kyusyu Sangyo University
Fukuoka Maizuru High School